Moderator: Gun Dog Moderators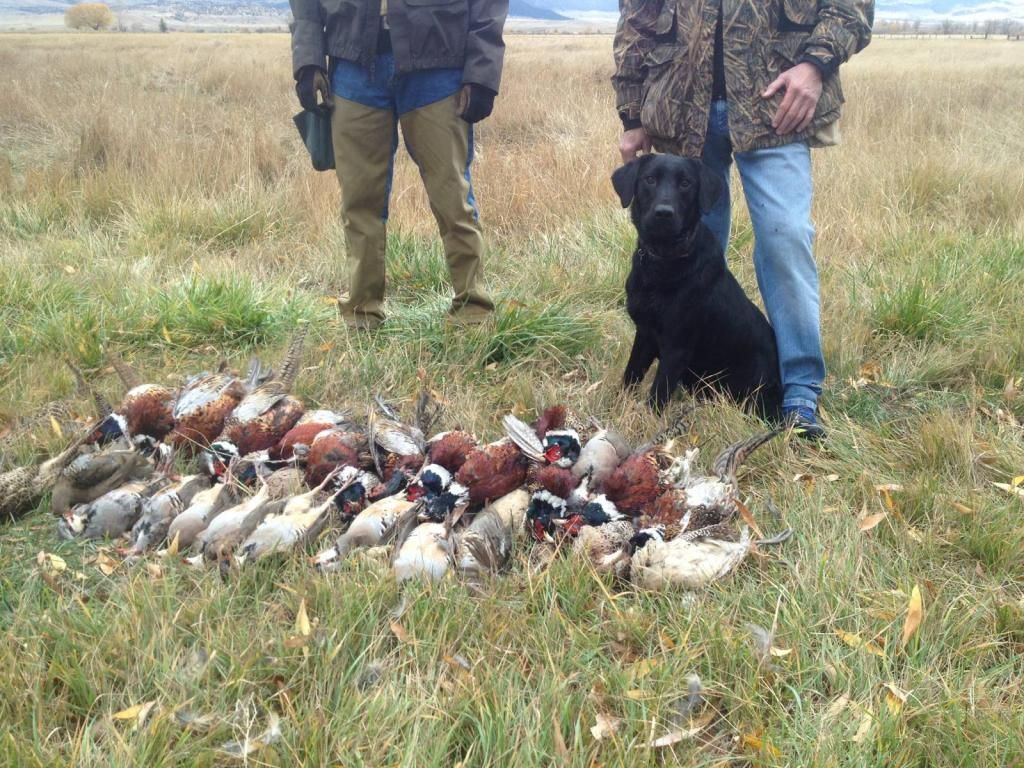 Sundown's Ruff And Tuff after an afternoon hunt. He is 16 months old.
Home of HRCH Sundown's Loaded To The Maxx (FC AFC Jamie X Dixie QAA)
Sundown's Boss of Delta Marsh JH (Louie QAA X Delta MH)
Traveling Through The Graded Timber JH (2012 NAFC Trav X Timber MH QAA)
http://www.sundownlabs.com
Topbrass Just Turn Me Loose - 'Rip' (at 8 weeks) - first trip to Saskatchewan, October 2014.
"I'd like to be remembered among my closest waterfowling friends (if I am remembered at all) for how I hunted them - not how many I killed" - [Jay Strangis]
Here is Delta. 18 months old
"If its not loaded, its just an expensive stick."
Duck South Addict
Posts: 4224
Joined: Tue Sep 06, 2005 9:24 am
Location: MillCreek
If things do not slow up, then I will take this as a sign that I need to go into business burying dogs.
For the 2nd time, in too short of a time, I have buried another of my beloved dogs. Again, in the prime of his life, I have lost another dog to a tragic illness. Yet again, my boots are muddy from burying my dog- my friend.
I do not know if dog's make it to heaven. However, I do know that on the 7th day God rested, and surely, in my feeble mind, if dogs did not make the cut, then the decision was a factor in The Creator resting. Surely, surely, this was an agonizing decision that would not have been made without demur. Not because The Creator holds a dog in higher regard than he does any other creature- but because man does. Knowing like God does, surely he could not have made such a decision without careful regard for the creature most affected by the absence of the dog for eternity- that creature which He DOES prize as the crown of His creation-man. Because He loves us beyond comprehension, surely He would have good reason to banish a man's dog from eternity- IF that is his choice. Surely He wouldn't create an animal that man so easily domesticates: An animal that comes as close as I can, personally and outside of the Holy Spirit, comprehend as incomprehensible love.
But if they do go to heaven, then Bodoc will be there. He was the only dog I knew that would literally smile as he was invited on the couch with me, my wife and Daisy (our Chihuahua). He was the quintessential definition of a dog whose tail would wag his body. He was a stoic dog with his emotions (which contributed heavily into his eventual death because of the complications of diagnosing him with an acute abdomen). He was a fine friend to ride on the 4 wheeler. He never hesitated in his attempt to displace a body of water from its resting place when he plowed into it. From the beginning, he had the nose of a hound dog.
Ten days ago, I went to Jackson to look at helping a Jesus-centered rehabilitation ministry with a problem. My mind was racing on how I could help since I first pitched a helping hand their way a month earlier. The ministry needs equipment to help clear their land of decades of misuse by prior generations. However, circumstances have changed since I made the comment to them that I had access to equipment. I was distressed at how, with the help of God, a small coalition of equipment could be attained in order to help do the work for God- so that they could harbor a place for Jesus to work in the lives of broken men. On top of that, my grandfather is suffering from the late stages of Alzheimer's disease and his constant status from "won't make it through the night" to "he has somehow survived" was (and is) taking its toll on my family. And to put the icing on the cake, my best friend Bodoc was at home suffering and, unbeknownst to me at the time, dying. 40 miles from home I spotted a puppy on the centerline that was frozen with fear as cars darted around him. A mile or so behind me were three 18-wheelers: his death no doubt. I couldn't leave him there, so I whipped over on the shoulder and scooped him up. Already in a low spirit, I couldn't fathom leaving the little guy behind. And so there I was: Driving down the highway with a German Cur Labrapit and puppy terds on my britches. (I also felt like I was going to vomit from the first 100 yard full-on sprint in a decade.) All I could say to Fred when he finally looked up at me was, "There must be a reason why you and I crossed paths."
Now I believe- I believe like you believe the money in your wallet actually means something- that Fred crossed paths with me because of what was coming. Because God knew I would need a dog to take up my time where Bodoc would not. I would really be a mess if it were not for me being busy with terd cleaning duties and housebreaking, socialization, kennel preparation for winter, etc. The little mutt was a blessing in disguise. Perhaps he was a "happy" for continuing to attempt to answer God for a task that He needs done (and will see that it does). However, hindsight is 20/20, or so they claim.
Bodoc was a "rebound" when Angus, my black lab, died. I found an ad for him online on one of the gun dog websites. The puppy market was down and I got him for a "steal" of a price, based on his pedigree. I brought him home, and he fulfilled his role better than any dog ever could have. I made the decision to purchase him in haste: I was in my hardest 2 semesters of engineering school and his purchase effectively brought my socioeconomic status to "dirt floor cracker-poor" instead of just "poor". I could not spend the time with him that a dog of his potential needed, and, at times, he and I both ate a steady diet of deer burger with rice. Sometimes, when I was able to make a good paycheck, we would celebrate by replacing the white rice with a box of Zatarain's jambalaya mix. But he never complained. He would always smile when I called him up on the bed, and he would always howl when Duane Allman would wail away on the song "You Don't Love Me Anymore."
When my wife and I rushed him to the vet at 1:00 AM Thursday, I still didn't think he was certain for death. It was too sudden. We thought he had some sort of infection, but he went down fast. Upon arrival, when the vet saw Bodoc, he said for my wife and I to prepare for the loss of our dog. With more experience than I care to remember with losing people and dogs that I love, I did my best to realistically contemplate the loss of yet another dog in a manner all too tragic and soon. This was done in between the duty of cleaning up vomit and giving him what could be (and eventually was) one last ear-rub and kiss on the nose. If you have never seen your dying dog being tied down to the operating table, half comatose from sedatives so that he won't die before the surgery is under-way (because of him being in shock), and in pain from an acute abdomen, then you have been blessed by circumvention of pure heartache.
As mentioned, before giving him the go-ahead for surgery, the vet made the statement that he would probably not survive surgery, but he certainly WOULD NOT survive without it. If he were an old dog, I would have had him put down, but this was Bodoc: A strong 2 1/2 year old lab that, just a few days ago, upon me calling him "Chunky Dude," would jump and bark and raise hell. Even now and into the future, the image of his loose skin wrinkled up from his dramatic weight loss and his skull-first position on the table made me remember how handsome of a dog he was. He was a stout, muscular, handsome dog full of decades of field-tested, bloodline-engraved pride; that 2 weeks earlier, had enough energy to sustain a presidential campaign indefinitely. (With a lot more class and a lot less crass than the politicians doing the politic'in. Unfortunately for them, in Bodoc's opinion, they would lack the charm that his master possessed.) He was now reduced to a wasted ball of yellow wrinkles and surgical sterilants. Because Bodoc would probably not make the surgery, I couldn't bring myself to stay.
Like before with Angus, I hoped that Bodoc could hear what I said to him before I left the operating room and before he left existence. As he was belly-up on that cold metal table, with his breathing labored and his face wrinkled like a dog's face does in that it melts the heart of even the most hard-hearted fool; his belly shaved and his conscience preparing for eternal departure, I hugged him goodbye for the last time and told him he was a good "Chunky Dude." I ran out, as if my presence would somehow cause things to go wrong or that the surgery would begin as quickly as a car wreck is over. I went to ride and smoke a cigarette and pray, and, eventually, receive the dreaded all-too-early phone call that Bodoc had died. And not being a stranger to people and pets in my life dying, all I could do was ask God, "Why?"
He died well before his time. It's amazing how a dog can be in such a pitiful physical state up on that operating table and still hold so much charm in the eye of his owner. He was my friend. He was my dog, and I miss him dearly.
I had a neighbor offer to dig his grave with his mini-excavator, but I thankfully declined. The best I can figure… is that me digging him a good & respectable place to rest is the least that I can do for the ol' boy: Considering what all he has done for me.
That is damned LEAST I can do.
And so he is now pointed East, but he is facing North- just like a good bird dog ought ta' be. That way, if he does make it to heaven, he will see It coming like the rest of us.
And if he does not see heaven, he will be faced in the direction of the wind that, to him, was the promise of his perception of what heaven truly is: The love of his master's company and the smell of the field.
Rest in Peace Bodoc, aka "Chunky Dude."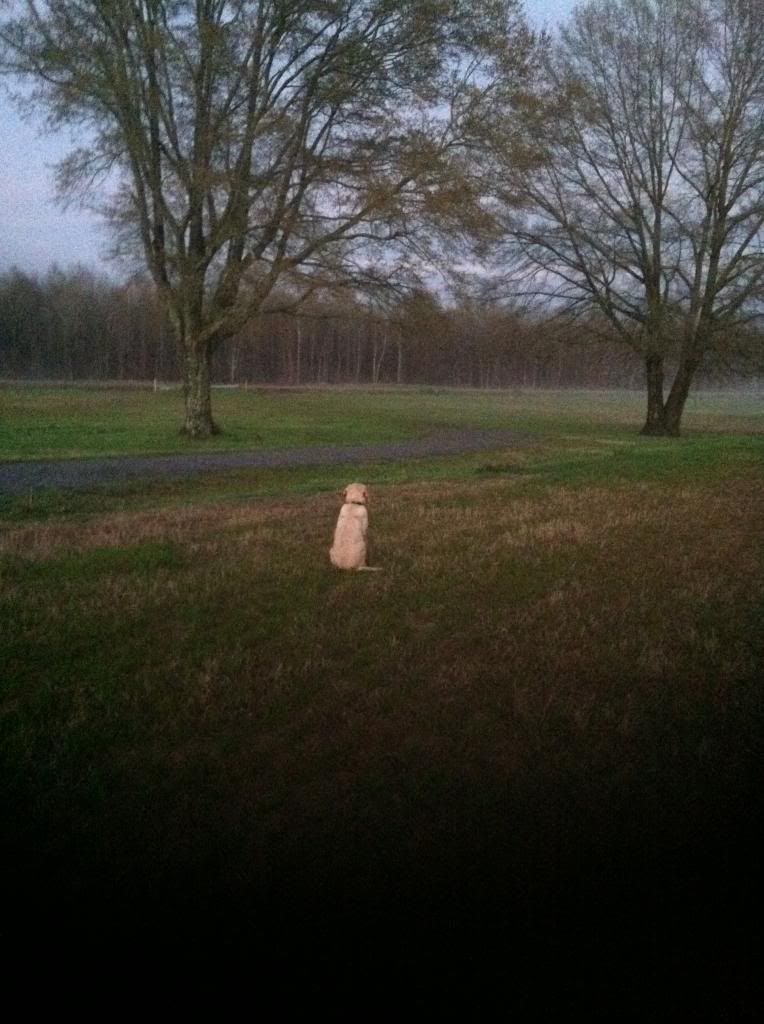 Man that might be the saddest story iv ever read. Sorry for your loss.
Damn. Sorry bud, it hurts like hell to lose them.
Duck South Addict
Posts: 4662
Joined: Thu Dec 22, 2005 1:24 pm
Location: In the office and pretending to work
Damn. I'm sorry.
Nobody owes you anything.
---
Who is online
Users browsing this forum: No registered users and 2 guests